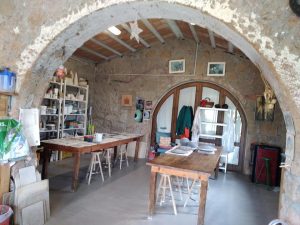 Mara Funghi's studio opens up to the experience of coworking, offering the possibility to use your own workstation and all the tools you need to live an exciting experience.
The Coworking space is a flexible, well-organised and secure space. It is the natural place where mutual experiences and knowledges  can meet and exchange to create new projects and synergies.
Large space well equipped with wooden workbenches and shelves.
Tools, pottery wheel, extruder, levelling machine.
Clay, enamels, sealed earths, oxides …
Gas kiln for bisque  firing.
Gas kilns  for Raku, Naked,  Raku, Saggar , Obavara ,
Bucchero firings and other smoking techniques as well.
Brick kiln for Pit firing.
A well furnished library of books and magazines  on the art of pottery is at your disposal
WI – FI
Outdoor parking
Coffee breaks and fast meals room
Possibility of accommodation on site at the Pian Casale farmhouse or other accommodation in the area.
If you need information about dates and  osts please send a simple request via email or contact us directly by phone.
info@marafunghi .it
+ 39 – 339 3514359